Mia's Botanicals participating with El Dorado Farmer's Market!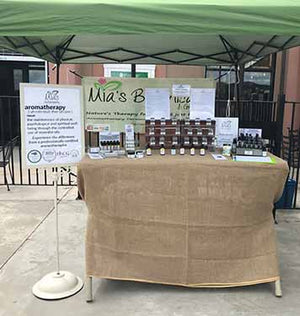 Providing our vibrant aromatherapy essential oil blends and quality aromatherapy personal care products at the El Dorado Farmers Market this season is a dream come true for us.
Meet our in-house certified aromatherapist. Explore our aromatherapy.
Location: 7 Caliente Rd Santa Fe, New Mexico
When: Fridays,May 31st through October 11th from 3:30-6:30 PM at the La Tienda shopping center in El Dorado. Check @mia.botanicals on Facebook for Mia's schedule as it may vary.
What makes this farmer's market so special is that not only is it dedicated to strengthening the local food system by supporting producers, it also supports Bienvenidos Outreach, a non-pforit that provides food and clothing to those in need in Santa Fe and the surrounding area in Northern New Mexico.
For other locations, please see our store finder.
Leave a comment
Comments will be approved before showing up.