Mia's Botanicals celebrating Spring at 18th Annual Spring Festival at El Rancho de las Golondrinas in Santa Fe, NM. June 3 & 4, 2023 from 10am to 4pm. Learn about "The Many Faces of Lavender" from our in-house Certified Holistic Aromatherapist.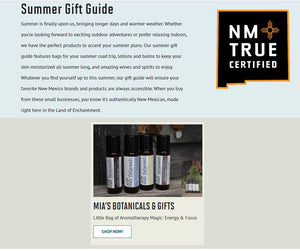 Mia's Botanicals is New Mexico True!
When you buy from this Summer Gift Guide, you are buying from small New Mexico businesses, like Mia's Botanicals. Buy local. Buy New Mexico True Certified.
Mia's Botanicals Simply Provisions is a collection of clean, environmentally friendly personal care or household provisions for daily life. 
We decided to share many of these products to you in support of your journey to more healthful, environmentally friendly life.
Check back often, as we will continue to share additional items.