The Allure of White Ginger Lily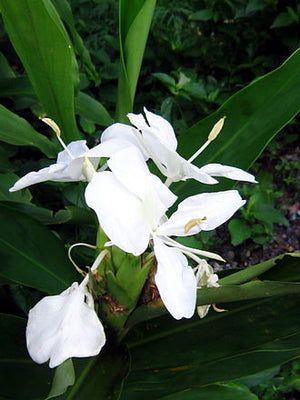 White Ginger Lily or Hedychium coronarium, is the National Flower of Cuba, where it is known as mariposa (literally "butterfly") due to its shape. Women used to adorn themselves with these fragrant flowers in Spanish colonial times; because of the intricate structure of the inflorescence, women hid and carried secret messages important to the independence cause under it.[6]
It is commonly cultivated in warm temperate and subtropical regions of the world as an ornamental and cultivated in China for use in medicine and production of aromatic oil due to its strong characteristic fragrance of the flowers said to be reminiscent of jasmine.[4][5]
White Ginger Lily absolute is the aromatic oil extracted from the delicate flowers and used in Aromatherapy applications. This oil supports unconditional love and uplifts the spirits. It is also thought to be an aphrodisiac.
This perennial flowering plant in the Zingiberaceae (ginger) family is native to the Eastern Himalayas region of India (Sikkim), Nepal and Bhutan through northernmost Myanmar and Thailand, southern China (Yunnan, Sichuan, Hunan, Guangxi and Guangdong) to Taiwan in the East.[4][3]
Mia's Exotic Interlude Aromablend contains White Ginger Lily Absolute.
Part of Mia's "The More You Know" Series
#MiasNatureTherapy
References: https://en.wikipedia.org/wiki/Hedychium_coronarium
Picture courtesy of Wikipedia
Leave a comment
Comments will be approved before showing up.