Smellology, the Art of Choosing (and Wearing) Cologne or Perfume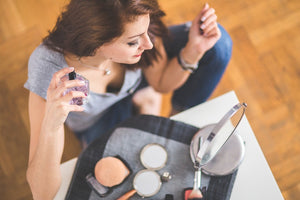 A good scent offers numerous benefits, making you feel less stressed (or more energized or sexy); support confidence; and making you more attractive and fashionable to others.
"Smell is the most powerful of sense. It is in fact 150,000 more sensitive than your vision, and capable of perhaps detecting over a trillion unique odors.1"
Scents trigger memories because our olfactory connects to the limbic system (crossing the blood-brain barrier).  Very powerful!
How do you know which scent works for you? The one that you like! It is important to try the scent on allowing the perfume/cologne to mix with your body chemistry, in order to understand what the smell will be like on you.
It is suggested that you use all natural perfumes or colognes based on essential oils (aromatherapy).
In aromatherapy terms, the aromatherapy perfume that you connect with (emotionally and physically) is the one you should choose. 
Apply perfume or cologne to heat areas allowing your body to push the scent throughout the day. Heat areas include: chest, neck, lower jaw, wrist inner elbow or forearm. Do not apply to sensitive areas such as your crotch, could cause irritation.
Part of Mia's "The More You Know" series.
#MiasNatureTherapy
Photo Courtesy of Pexels
1-http://www.artofmanliness.com/2015/10/14/guide-to-fragrance/
Leave a comment
Comments will be approved before showing up.