Preservatives: The Good, The Bad and The Necessary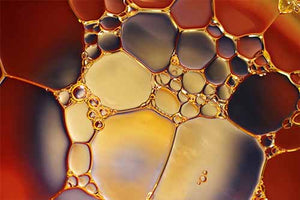 I am frequently asked if Mia's aromatherapy personal care products are "preservative free". My answer to that question is, no. Realizing that the word "preservative" conjures up mixed emotions today in consumers, it is important to delve further into the purpose of preservatives.  There is a good side to preservatives and a bad consequence for not having them.
Many personal care products have water as one of the ingredients. Any time water is part of a formulation there is potential for the growth of harmful bacteria, mold, fungus and yeast. In addition, there are additional ways to introduce contamination to any personal care product. This includes: germs transferred to the product when using fingers, utensils or applicators and even mold spores in the air. It is not only gross, but can be harmful to your health. The problem is that unlike milk that goes bad, spoiled personal care products may smell fine and look normal.
It is important to note that all cosmetics and personal care products that are void of a preservative will go bad. Those with water as an ingredient will go bad even more quickly.
A few years ago, a large company who sold natural products found that their body wash was growing such organisms – making users of the product sick. This company (to remain nameless) sold to many hotel/motel chains. It was through customer's complaints and USDA inspection that the issue was found. This is not just a one-time circumstance, there are countless reports of contact dermatitis and rashes from using unpreserved lotions.
Lesson: This issue is more common than you might think and not exclusive to the local maker, large companies have to beware as well! 
There are many types of preservatives, some of which have created all the bad press (the "bad" list). The preservatives in Mia's Botanicals naturally derived personal care products are not on the "bad" list of preservatives. Different preservative systems exist to meet different needs and are as follows:
Organic Alcohol: A nontoxic and natural preservative that is food grade and certified organic grain alcohol, a natural essential oils and pure plant extracts.
Phenoxyethanol and Tetrasodium Glutamate Diacetate: For products that use this preservation system, Phenoxyethanol is combined with Tetrasodium Glutamate Diacetate as an alternative to formaldehyde-releasing preservatives (the "bad"). Phenoxyethanol is, among other positive things, paraben free; non-irritating to eyes and skin as used here; and very stable. Tetrasodium Glutamate Diacetate is a preservative booster produced from vegetable matter and is not toxic to genetic material or cells; easily biodegradable and easily consumed by microorganisms.
If you choose not to use a preservative – the product must be kept in a refrigerator, unless the product does not contain water, and used the right way.
In this day and age of people wanting all-natural preservation systems, but not wanting parabens, seeking products that are "preservative free", the information above is some food for thought.
This information is for educational purposes only.
Photo courtesy of Pexels
Leave a comment
Comments will be approved before showing up.